Experience Legoland
I think most of us know the brand LEGO or have might be played with it as kid. Legoland Billund Resort in the south of Denmark offers experiences for the whole family. Roller coasters, a water park, zoo, climbing park and of course, lots of LEGO! You won't have enough time here! Legoland is made up of different worlds, each with its own theme. There are fun things to do for all ages in each world, but depending on age and interest, there will probably be certain worlds that appeal most.
Photo: Reisliefde
Order tickets for Legoland in advance, so you don't have to stand in line for them. Find your tickets here:
Amusement park – For the smallest ones
Miniland is the oldest part of Legoland and has been there since it opened in 1968. In this land, many famous buildings have been recreated in miniature. This way you can walk among the buildings yourself. In particular, there are many structures from Denmark itself, but also Germany, the Netherlands and Switzerland. All these buildings are made with 'traditional' bricks without roofing bricks or other special parts. We can still learn something from that. Mini-land and Duploland, among others, are highly recommended for the youngest children!
Next to Duploland, you will find Legoland's driving school. Here, children can practice the traffic rules and get their own Lego driving license. I remember from my childhood that it was a hit. It's a very popular attraction so therefore you have to make a reservation. See more about Legoland's driving school here!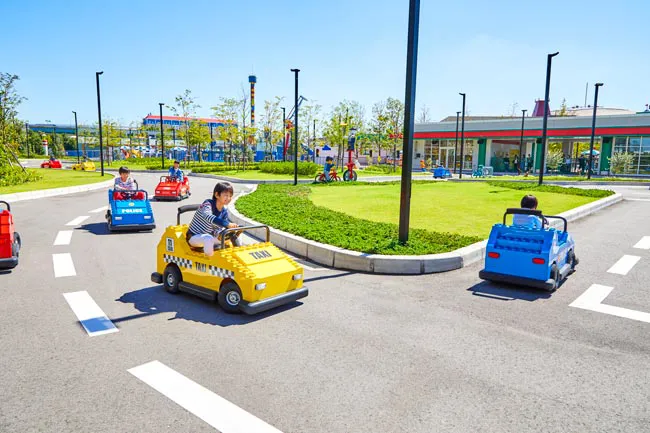 Photo: @Legoland
Spent the night in legoland
You can also stay overnight at Legoland. Hotel LEGOLAND is located in the theme park above Atlantis and next to Miniland, and the rooms are the style of Lego, with pirates, princesses, knights, superheroes or Lego Friends.
Photo: @Legoland
LEGOLAND Holiday Village is located near Legoland, here you can sleep in tiny houses in the style of Lego Ninjago or the Wild West, wine barrels, a pirate motel, Indian tents and much more.
Do you want to experience more in South Denmark? Check it out here!